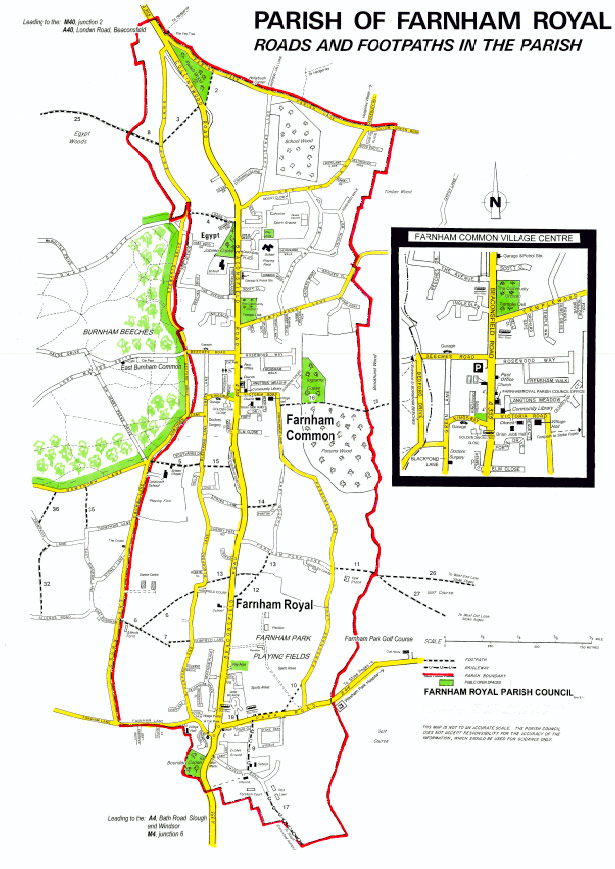 Farnham Common and Farnham Royal
The parish of Farnham Royal includes Farnham Common – and locally they are known as The Farnhams.
Parish Councils are relatively recent. Until 1894 the affairs of the parish were administered by vestry meetings held monthly in the church after Sunday morning service.
Originally they were responsible for the appointment of the village constable, the repair of the roads, the welfare of the poor, and the church. After several legislative changes the Local Government Act of 1894 introduced parish councils which have remained largely the same since that time. The aim was to give everyone who paid domestic rates a voice in the election of parish councillors and benefit from the decisions taken.
Whilst the Parish Council looked after the civil side of the parish affairs the ecclesiastical matters were handled by the parochial church council.
The first meeting of Farnham Royal Parish Council took place in the school in Church Road with an attendance of over 100 residents. Looking back over the minutes over the last century the issues raised are not too different from today including water, mains drainage, postal deliveries, motor traffic, road safety, mineral extraction and open spaces.
1894 – 1916              F C Carr Gomm   (Served on Council for over 20 years)
1916 – 1943              A F Drew               (Served on Council for over 25 years)
1943 – 1947              T Harvey Hull
1947 – 1950              T A Scott
1950 – 1955              R Lund                  (Served on Council for nearly 50 years)
1955 – 1969              J Hartley               (Served on Council for over 20 years)
1969 – 1970              C M R Peecock
1970 – 1975              P N Janes             (Served on Council for over 30 years)
1975 – 1979              W F Foulds          (Served on Council for over 20 years)
1979 – 1982              M G M Fordyce
1982 – 1987              P Ripley
1987 – 1999              D Stewart            (Served on Council for over 20 years)
1999 – 2003              W F Foulds
2003 – 2007              P J Cathcart         (Served on Council for over 20 years)
2007 – 2008              W F Foulds
2008 – 2012              P J Cathcart
2012 – 2015              W A Youel
2015 –  2018             T S Clapp
2018 –                        P E Rowley